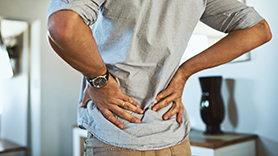 In Australia, 1 in 5 individuals are affected by chronic pain to the point that it significantly impacts on their daily life. The good news is that physical activity and exercise can help.
The website Exercise is Medicine has some great materials on the benefits of exercise for a range of health conditions. One of the most interesting areas for us at Be Active and many of the clients we work with, is the ability of exercise to assist with the management of chronic pain.
As the Exercise is Medicine fact sheet on chronic pain suggests:
The body and mind love movement and gradually becoming more active is essential for treating and managing chronic pain. Some of benefits of exercise include the joints get nice and lubricated and glide easier; some structures including the nerves and the discs of the spine need movement to get their nutrients and be healthy; the muscles get stronger and don't fatigue as easily; the nervous system winds down promoting relaxation; reduced flare-ups; improves mood and helps with anxiety and depression.
Most importantly, your body produces its own pain relieving medication (e.g. endorphins) that work like the pain medication doctors prescribe. After a bout of exercise your pain tolerance increases, things hurt less, and this can last for up to an hour depending on the exercise.
Be Active Health Solutions are here to help people reach their health and well-being goals. If you require any help, please complete an online referral form or email referrals@beactivehs.com.au.