We help people to be well and be healthy
At Be Active Health Solutions, we design individual programs to help a person recover from injury or illness through exercise. We also use exercise to help people lead a healthy lifestyle.
We teach people how to stay safe and minimise the risk of injury in their working lives. This can be education on the best way to complete manual handling tasks. It could be completing functional assessments to ensure people are well suited (both physically and psychologically) to the role and duties they are required to perform.
Whatever the service or assessment, we ensure that people understand their body and their health condition, so they can make informed decisions about their healthcare and complete appropriate exercises to improve their condition, function and ability.
How do we do it?
We start by getting to know our client. We undertake an initial assessment to learn about their medical condition, their work demands and their general lifestyle. And we talk about goals for recovery, work and life.
The initial assessment is completed at a convenient location for our client – whether that is our office, at the client's home or at a gym facility. It provides both subjective and objective measures and allows us to plan a goal-driven program for the client.
Following the assessment, clients are set up with an exercise software login with access to their own program. All necessary equipment and/or gym memberships are provided at the first exercise review.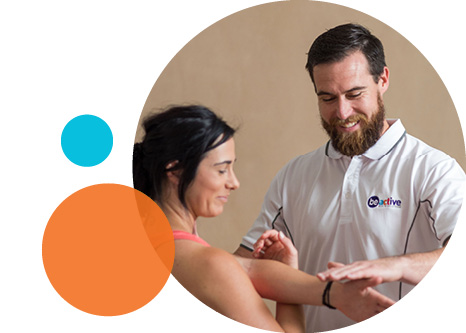 Our programs can be delivered one-on-one or in a group environment. They can be included as a component of a Return to Work Plan following an injury or as a standalone wellness program.
No matter what type of program, we aim to keep the activities local and easily accessible. And we ensure that our clients are educated and empowered along the way. We find that the more a person knows and is control of their own journey, the more likely they will be to self-manage their health condition and maintain the motivation to realise all the benefits of an individually tailored exercise program.