We are Be Active Health Solutions (Be Active).
Our ethos is simple – exercise improves lives.
Be Active is a professional team of dedicated and experienced exercise physiologists who tailor exercise rehabilitation programs for every client, providing them with the tools to self-manage their condition and improve their quality of health and life.
We now cover more of Australia and are still growing. We share a passion for working with people to unlock their potential through individualised exercise programs. While our approach differs for each person we work with, what remains consistent is our belief in the power of exercise to heal minds and bodies.
In exercise we strive for progression, consistently improving and building great habits. That's why the power of exercise is an important part of what we represent.
The power of exercise
You read it everywhere. Exercise is vital to improved mental health. Exercise is key to well-being and self-esteem. And of course, exercise is instrumental in fitness and physical health.
Interestingly, it's often the first thing to fall by the wayside when someone is injured or ill; or under pressure. That's why it is important to build exercise into holistic return to work or recovery from injury or illness programs. Tailored exercise programs help people recover their health and well-being much faster.
Research consistently reinforces the fact that the healthier and fitter we are, the quicker we will recover from injury and sickness.
Why Be Active?
Our team of Exercise Physiologists are university qualified with accreditation through Exercise and Sports Science Australia, ESSA. With backgrounds in workplace injury rehabilitation, our team is equipped with the knowledge, skills and competencies to design, deliver and evaluate safe and effective exercise interventions to optimise recovery and return to work outcomes for their clients.
We work with our clients, their treating health professionals, employers and other stakeholders to encourage early intervention of exercise to deliver optimal recovery and return to health outcomes. With every client we:
Measure and demonstrate the effectiveness of the treatment program
Empower the injured person to manage their injury or health condition
Set and work toward goals that are focused on optimising function, participation and return to work
Base the individual treatment program on the best available research evidence
Adopt a biopsychosocial approach that takes into account biological, psychological and social factors in understanding a person's health and healthcare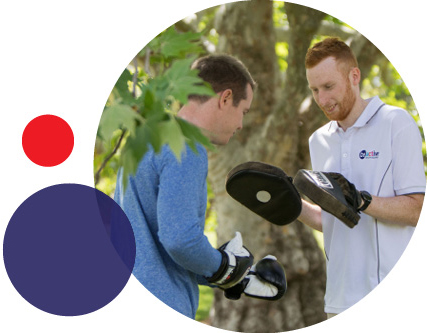 Our Company
Be Active Health Solutions is part of MedHealth, which supports thousands of people each year to achieve better work and health outcomes. We do this through our unique combination of strengths, capabilities and resources which span employment, medical opinion, advisory, rehabilitation and return to work services.
Across 17 health and employment-related businesses, our 1,400 strong team of committed professionals use their talents to help others realise their potential. Backed with the expertise of more than 1,200 independent medical specialists, we cover all major medical and allied health disciplines. Delivering localised expertise in more than 270 locations across Australia, we are wherever our customers need us most, when they need us.
Being part of this larger organisation means that we understand health in the context of life and work. And it means all client exercise programs are designed with an optimal return to health, wellness and work in mind.
"I have found Be Active very helpful in assisting my clients in overcoming barriers and returning to pre-injury physical function. Their focus on effective communication with all stakeholders as well as tailoring exercise programs to assist clients with their specific needs, enabled us to achieve pre-injury outcomes, in a timely and sustainable manner, whilst ensuring all parties were updated throughout the process."
– Workplace Rehabilitation Provider