Welcome to Be Active Health Solutions. We are a growing team of dedicated and experienced Exercise Physiologists with offices throughout New South Wales and Perth.
Our vision
To tailor exercise rehabilitation programs for every client, providing them with the tools to self manage their condition and improve their quality of health and life.
Our company
Be Active Health Solutions is part of WorkFocus Australia, one of the largest providers of workplace injury prevention and rehabilitation in Australia. We are also part of the Work Health Group, which supports over 25,000 Australians a year to build a better life through work and health.
Being part of these larger organisations means that we understand health in the context of life and work. And it means all client exercise programs are designed with an optimal return to health, wellness and work in mind.
Why Be Active?
Our team of Exercise Physiologists are University Qualified with accreditation through Exercise and Sports Science Australia, ESSA. With backgrounds in workplace rehabilitation, our staff are equipped with the knowledge, skills and competencies to design, deliver and evaluate safe and effective exercise interventions to optimise recovery and return to work outcomes for injured workers.
We work with our clients, their treating health professionals, employers and other stakeholders to encourage early intervention of exercise to deliver optimal recovery and return to health outcomes. With every client we:
Measure and demonstrate the effectiveness of the treatment program
Empower the injured person to manage their injury or health condition
Set and work toward goals that are focused on optimising function, participation and return to work
Base the individual treatment program on the best available research evidence
Adopt a biopsychosocial approach that takes into account biological, psychological and social factors in understanding a person's health and healthcare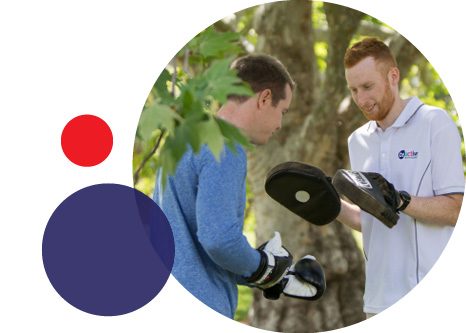 "I have found Be Active very helpful in assisting my clients in overcoming barriers and returning to pre-injury physical function. Their focus on effective communication with all stakeholders as well as tailoring exercise programs to assist clients with their specific needs, enabled us to achieve pre-injury outcomes, in a timely and sustainable manner, whilst ensuring all parties were updated throughout the process."
– Workplace Rehabilitation Provider