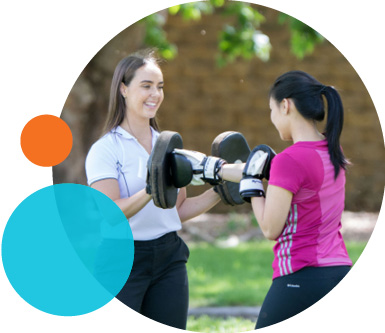 Exercise Physiology
Be Active Health Solution's Accredited Exercise Physiologists (AEPs) can help with a range of different health or medical conditions. They prescribe exercise to help prevent, treat and manage chronic diseases, illness and injuries. Combined with their training in behaviour change, they can help people to manage their health independently.
All treatment is centred around our client's goals; we work with every individual to assist them in returning to activities that are meaningful to them, while restoring function and reducing pain. Programs can be tailored to include hydrotherapy, gym based or home-based exercises, and all are monitored to ensure success against agreed benchmarks or measures.

Work Function Programs
Be Active provides exercise programming to suit the specific functional demands of different roles within the workplace. Exercise prescription that is both functional and specific is shown to provide optimal outcomes for the worker within their new or existing role.
As roles within the workplace vary so greatly, so too do their physical demands. Therefore, exercise programming needs to accommodate these differences to ensure that the worker is receiving high-quality, evidence-based and appropriate management.
Be Active consists of highly trained and qualified professionals who have a sound understanding of these principles.

Manual Handling
Manual handling is a part of the everyday functions of the work place. It involves the use of the human body to lift, lower, fill, empty, or carry loads.
As each work place is different, it is important to identify the requirement of different roles on a case by case basis. Be Active provides education and assessment of manual handling techniques to ensure employees are utilising the optimal lifting techniques to protect their own health and wellbeing as well as those around them.
Be Active takes a personalised approach to ensure that manual handling training suits the varying roles within the workplace and is suited to the individuals receiving training. Effective manual handling techniques when implemented correctly can significantly reduce the risk of workplace injuries.

Hydrotherapy
Be Active provides water-based exercise therapy where appropriate. This treatment modality is called hydrotherapy.
Hydrotherapy (or aquatic exercise) involves exercise prescription in a specialised heated pool environment. The water provides a therapeutic environment for both exercise and rehabilitation treatment. Hydrotherapy can be beneficial for a wide variety of chronic medical conditions and injuries. This includes but is not limited to arthritis, musculoskeletal injuries, pre and post-surgery management, and neurological conditions.
Hydrotherapy provides a low impact environment, while the pressure from the water supports joints to reduce pain and inflammation. Aquatic exercise is a great medium for those who are unable to complete exercises in a land-based setting.