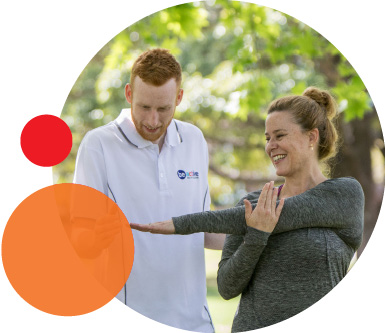 Exercise Physiology for recovery and health
If you have a health or medical condition, an exercise program prescribed by Be Active Health Solutions Accredited Exercise Physiologists (AEPs) can help.
AEPs prescribe exercise to help prevent, treat and manage chronic diseases, illness and injuries. They can help you to understand your health condition and learn about the things that you can do to manage and improve your health independently.
All treatment prescribed is centred around your goals – whether these are goals in work or life. We work with you to return you to activities that are meaningful to you, that help to restore your physical function and reduce your pain.
The program will be tailored to you and your health condition. It might include hydrotherapy, gym based or home-based exercises. No matter what program is undertaken, we monitor you closely to make sure you are reaching the goals that you set out to achieve.

Hydrotherapy
Be Active provides water-based exercise therapy where appropriate. This treatment is called hydrotherapy or aquatic exercise.
Hydrotherapy involves exercise prescription in a specialised heated pool environment. The water provides a therapeutic environment for both exercise and rehabilitation treatment. Hydrotherapy can be beneficial for a wide variety of chronic medical conditions and injuries. This includes but is not limited to arthritis, musculoskeletal injuries, pre and post-surgery management, and neurological conditions.
Hydrotherapy provides a low impact environment, while the pressure from the water supports joints to reduce pain and inflammation. Aquatic exercise is a great medium for those who are unable to complete exercises in a land-based setting.

Work conditioning or work preparation programs
Every job comes with different physical demands – some more so than others. An exercise program from Be Active can ensure that you have the physical ability to meet the demands of a role and stay safe, healthy and productive, whether this is your current job or a new job.
All work conditioning programs are designed for the specific functional demands of the role. This could include particular movements, repetitions, strains or pressures that are a normal part of the role. Specific exercises are prescribed to improve conditioning and function and counteract the demands placed on the body.