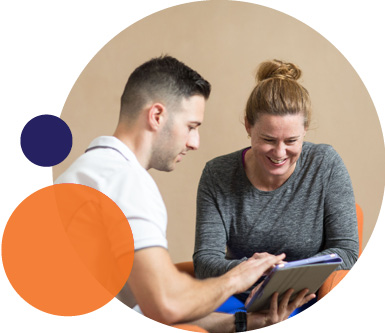 Pre Employment Screening
Be Active Health Solutions' pre-employment screenings are designed for employers who require a structured functional and physical screening assessment to match the critical job demands of a role with the candidate's functional ability.
A screening can be undertaken to determine if a candidate can meet the genuine occupational requirements of a specific job, including the required functional capacity.
Completing a pre-employment screen can provide valuable information regarding a candidate's physical capacity to safely and effectively meet the full requirements of their functional job demands.

Work Function Programs
Be Active provides exercise programming to suit the specific functional demands of different roles within the workplace. Exercise prescription that is both functional and specific is shown to provide optimal outcomes for the worker within their new or existing role.
As roles within the workplace vary so greatly, so too do their physical demands. Therefore, exercise programming needs to accommodate these differences to ensure that the worker is receiving high-quality, evidence-based and appropriate management.
Be Active consists of highly trained and qualified professionals who have a sound understanding of these principles.

Manual Handling
Manual handling is a part of the everyday functions of the workplace. It involves the use of the human body to lift, lower, fill, empty, or carry loads.
As each workplace is different, it is important to identify the requirement of different roles on a case by case basis. Be Active provides education and assessment of manual handling techniques to ensure employees are utilising the optimal lifting techniques to protect their own health and wellbeing as well as those around them.
Be Active takes a personalised approach to ensure that manual handling training suits the varying roles within the workplace and is suited to the individuals receiving training. Effective manual handling techniques when implemented correctly can significantly reduce the risk of workplace injuries.
Did you know?
Studies suggest that physical activity programs that promote postural awareness whilst at work can reduce absenteeism by up to 20%. Statistically, physically active employees take 27% fewer days of sick leave each year which directly benefits your bottom line costs.
Workers who exercised prior to commencing their shifts displayed:
21% higher levels of concentration at work
25% increase in their capacity to work without unscheduled breaks
22% improvement in their ability to complete work on time translating directly in improved efficiency and increased productivity